Champion Paddleboarder Brad Thomas, MD, on Training with Liquid I.V.
"I jumped on it, fell off of it, jumped on it again and took it for a half-mile paddle. And then I was hooked.
Brad Thomas, MD
Champion Paddleboarder Brad Thomas, MD, on Training with Liquid I.V.
---
Los Angeles–based orthopedic surgeon Dr. Brad Thomas doesn't have a lot of free time. The Laguna Beach native and father of three children under the age of 4 begins select mornings with scheduled surgery at 6 a.m., followed by seeing patients at the office until 6 p.m. But Dr. Thomas, an avid surfer, paddler and former collegiate swimmer and water polo player at University of California, San Diego, still manages to carve out time to train for races such as the Catalina Classic, a 32-mile paddleboarding race (founded by Los Angeles County lifeguard Bob Hogan in 1955) that takes place every August from Catalina to the Manhattan Beach Pier. In 2011 Dr. Thomas won first place.
We caught up with the former chief of sports medicine at Harbor/UCLA, whose patients include Olympians and the Los Angeles Defenders, on his go-to hydration product Liquid I.V., how he got into paddleboarding and why he can't imagine doing anything else.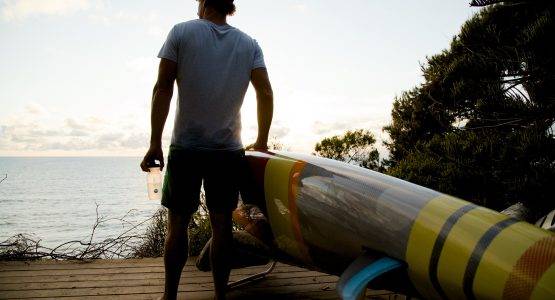 Tell us about Liquid I.V. and the importance of hydration.
I was an athlete in high school and college (a water polo player and a swimmer), and after college, I continued to play water polo and swim. I started doing some ocean races, and then I got into doing these longer, five-hour-plus paddleboard races. That's how I got into this oral rehydration phenomenon, because hydration is so critical for performance. And then, separately, I'm also a doctor, and I take care of a lot of athletes. Athletic performance is very nutrition-based.
Until I was introduced to Liquid I.V., there really wasn't a good hydration product on the market that worked well. Most endurance athletes actually end up making their own varieties using a combination of different things that end up not being very efficient or effective.
How did you get involved with the Catalina Classic?
I started surfing when I was a little kid. My dad was a surfer, and his dad was a surfer. Back in those days—in my grandfather's era—surfers were almost all paddlers, because they surfed on what were at the time paddleboards: a long plank with no fin. So I grew up paddling around Newport Harbor and Laguna, and it was something I did in combination with all of my surfing.
But I lost track of paddleboarding, and it wasn't until my mid-30s when I was on the beach in Manhattan Beach, and one of my friends shows up with one of these paddleboards. I was like, "What is that thing?" He said, "Try it."
So I jumped on it, fell off of it, jumped on it again and took it for a half-mile paddle. And then I was hooked. I went out and bought one of my own and then the next year did the Catalina Classic.
What was your first race like?
I went in pretty unprepared for my first race and hadn't paddled more than 15 miles, so I didn't do appropriate training for it. And I had a board that I probably shouldn't have crossed the channel. And I didn't have proper nutrition. And it was stormy and rainy and windy. And it was one of the slowest races on record.
I was not prepared, and it was mentally and physically a very tough race. I think a lot of people have similar stories about their first time. The second time I got my act together and started training. I trained enough to win it in 2011. I've done it seven times, and I got second in 2013.
You've also competed in Molokai (a 32-mile race from Molokai to Oahu). How does that differ from the Catalina Classic?
The fact that it's Hawaii is pretty epic. Catalina is either a flat water or an upwind race (meaning you're going against the waves and the current), and in the Molokai race, it's completely the opposite. You're basically riding waves.
You don't necessarily get there any faster, and it is really cool in that it's all about catching waves. You paddle really hard and ride a wave, and paddle really hard and ride a wave, and you do that for five hours. That race is technically challenging to stay on your board and just to navigate. Since I don't paddle over there all the time, it's more challenging.
Your fastest finishing time for the Catalina Classic?
Five hours, 15 minutes. We are always right around that mark; it's pretty typical. But there are guys in Molokai that are right around five hours.
How did you decide on a career in sports medicine, and what do you love about it?
I was a really athletic kid and played baseball, soccer, swimming. I was competitive in junior lifeguards. Our mantra was: "all sports, all day." We would take whatever balls and things we could get outside and compete with our friends all day long. I've always loved athletics.
When I went to college, I was good at the sciences. One of my mentors growing up was Ron Waters. He's a beach guy and orthopedic surgeon, and I really looked up to him. I'm super-lucky to have my job. I take care of Palos Verdes High School, Harbor College and the Los Angeles Defenders, and I like treating athletes. I get to figure out what the injury is and what's stopping them—a torn ACL or meniscus. I enjoy the problem-solving aspect of it.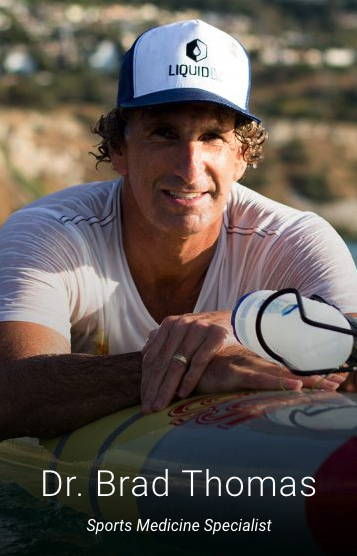 Dr. Brad Thomas
Sports Medicine Specialist
Dr. Brad Thomas is a championship paddleboarder and world-renowned orthopedic surgeon who has enjoyed a lifelong obsession with sports—especially surfing, his passion since he was a young boy growing up in Southern California. He attended the University of California, San Diego, where he played water polo and was an NCAA All-American in swimming.
Read More Liquid I.V. Stories
---